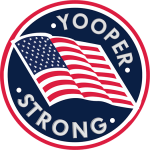 MARQUETTE & ESCANABA STORES ARE NOW OPEN!
About Ashley HomeStore UP
The history of Ashley HomeStore in the UP dates back more than a quarter-century. Founded by Roger and Mary Jane Jensen of Gladstone, it was nearly thirty years ago when Roger's Furniture opened on 3rd Avenue North in Escanaba. The store started as a warehouse concept in the 150-year-old historic building and then transitioned into a unique home-furnishing experience.
The furniture store was closely tied into the Jensen's moving business, Guindon Moving & Storage. The concept worked well, with Guindon often bringing loads of new furniture from the factories to the UP on return trips. This allowed the company to offer excellent pricing on quality products.
Business boomed and we were able to relocate to a larger space, bringing us to our current Escanaba location, located on N. Lincoln Road.
By this time, Roger and Mary's son Scott Jensen was heavily involved in expanding Guindon Moving to a second large location in Negaunee and their daughter Kelly Jensen began working on a new direction for the furniture store. In 2006, the Jensen Family was proud to open the first Ashley HomeStore in the UP, a totally new furniture concept for the Upper Peninsula, with unprecedented access to modern furniture and accessories. Our Escanaba store was the 239th Ashley HomeStore in the US.
We were able to remain locally owned and operated while gaining the tremendous support of Ashley Furniture, America's #1 furniture and mattress dealer.
In October 2017, we opened our newest location, the Marquette store, located on Hwy 41. This beautiful new store has a huge selection of furniture, accessories and bedding, spread out between two levels. In addition to Ashley Furniture, we also carry Beautyrest & Tempur-Pedic bedding, electric fireplaces, lift chairs and huge selection of quality home accessories.
The Jensen Family is proud to offer 2 Ashley HomeStores in the UP. Kelly Jensen still oversees both of the stores with the assistance of a dedicated staff. Everyone works as a team to make sure the needs of the customers come first. Scott Jensen continues to closely manage both Escanaba and Negaunee branches of Guindon Moving. Both companies are blessed to have many dedicated and long-term employees. Roger and Mary Jensen continue to monitor the companies making sure they stay true to the foundation they were built on.
We are grateful to all of our customers over the years and look forward to being here for many years to come.
All of us THANK YOU!